MASSIMO PERGOLINI and TIZIANA LONGHI
Owners of the company, founded in 1985, are the beating heart of Casa Oggi Arredamenti.
Massimo, surveyor with a creative soul, is mainly devoted to the creation of projects, and business administration. Tiziana is in charge of the accounting tasks, and takes care of the fitting of the showroom in an extremely personal way.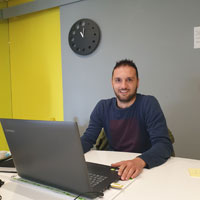 LUCA PRINCIPI
Young interior designer, works with passion and dedication. Art School graduate with a major in Architecture, works with Casa Oggi Arredamenti since 2005. With time, he has become the backbone in the advanced design activities, which he develops in creative ways, using at best innovative software. He develops, flawlessly, projects for our local, national and international clients.
SONIA SILVESTRINI
Designer, she works with the company since 1988. Extremely reliable, meticulous and talkative, she is able to combine strong technical and professional skills and a great friendliness and courtesy towards the client. Huge animal lover and Juventus Football Club supporter.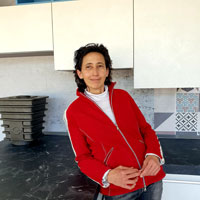 VALENTINA PRINCIPI
Young interior designer with an innovative spirit. Extremely good at working out with the client the solution that best suits his/her needs, and meticulous in developing projects for all the environments. Art School graduate, she joined Casa Oggi Arredamenti team in 2017. Her passions are good food and free drawing, the latter being an ability she excels at.
FEDERICA CITERONI
Business and Economics graduate, she takes on a dynamic role in the company. Mainly devoted to general business administration, she is also in charge of clients regarding the choice of the financial plans that best suit their needs. Road Trips lover and passionate gamer, with a soul divided between Microsoft and Sony, she is also a Rugby Coach and former Rugby XV player.